Interdimensional
12 Strand DNA Activation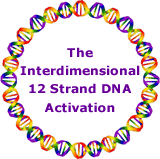 CD
mp3 Download
---
Akashic Wisdom Retrieval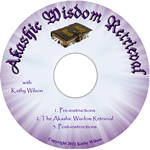 CD
mp3 Download
---
Kindle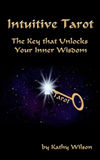 Don't have a Kindle? Don't fret. You can download the Kindle app for your PC or Mac computer, iPad, Android, Blackberry, and more HERE! Hey, you don't pay a cent for it!
Now you can read Kindle books on Nook and other ebook formats, too, with Calibre, an app that synchs all ebook formats... and it doesn't cost a penny!
---

If a friend forwarded The Journal of Spirited Coaching to you,
you can subscribe and get your very own newsletter sent to you personally twice a month.
Just go HERE

---
PRIVACY STATEMENT:
I will not distribute your email address to anyone. Period.
Experiencing a creative drought?
The articles in all of these ezines are available for you to use in your ezine or on your website. Please retain the copyright information and if you are using it on your website or ezine, please provide a link to http://www.warrior-priestess.com. My gratitude knows no bounds for your kindness.
Copyright©2015
Under One Roof
All rights reserved
Becoming Your Desires
A week or so ago I attended a workshop/retreat entitled "Let's Manifest" given by Krysta Gibson, publisher of The New Spirit Journal and an amazing coach/mentor. The information and exercises she guided us through were by far the most effective I've experienced of all the manifesting workshops and seminars I've experienced.
What made it different and more powerful was this one concept: Before you can manifest or create what you want to have in your life, you must become the person who already has it.
This is called "modeling" in some schools of life betterment. As you become that person who already has what you want, your vibration shifts to align with your desire. And, as The Law of Attraction demonstrates, those things of like frequency are magnetized to each other.
I'm here to tell you modeling is not always an easy accomplishment. Most of us don't have a clue about who already has what we want, let alone what that person is like. I'm in that group, and not the group of people who know who their model is and also knows all about them.
So after thinking about my model person until I gave myself a headache, I finally realized this didn't have to be a real person. That one fact made the project easier because most of the people I wanted to use as a model all had some trait or belief that I found contrary to my own. This one detail then colored how I viewed all their other actions, beliefs, and values that I wanted to emulate... and usually not to the plus side.
That little obstacle handled, the next hurdle was to create my model so I'd have a guide. This was easier, since the method I came up with is something I'm very adept at - asking questions.
If you'd like to try this very powerful technique to manifest your ideal life - or any part of your ideal life - here are some of my questions that you, too, can use. They may spark new questions as you use them or you may wish to change them somehow. Well, you go right ahead. After all, this is about creating your desires, and this creation is unlimited.
Who is this person that has what I want?
Is this person real or is she my creation?
What are her top five core life values?
How does she prioritize when she makes choices?
What kinds of groups does she belong to... or does she belong to no groups?
What are her friends like?
What are her top
What gives her delight? Makes her cry? Drives her to anger?
How did she get what she/I want?
When she had setbacks, what did she do?
As you continue to get to know or to create your model, the one who already has what you so desire, more questions will no doubt arise. The more details you have, the easier it will be for you to know what you need to do in order to become the person who already has what you want.
Love,
Kathy
---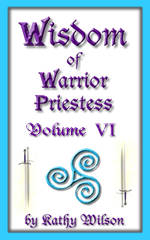 The latest collection of wisdom from
Warrior Priestess!
I've selected only the best articles from all the editions of my newsletter, The Journal of Spirited Coaching, from the last two years. They're all conveniently gathered into the latest volume of my Wisdom of Warrior Priestess ebooks.
See a sample of what's in the book and purchase it in Kindle on Amazon.com.
---

Why take an online class rather than an in-person class?
You have the freedom of being able to take the classes when and where you want! Can't you just see yourself cozied up with your laptop or iPad on the sofa, the music of your choice playing in the background, your favorite tea or coffee close at hand... and you're totally comfy in your sweats or jammies! Or maybe you're at the beach enjoying the sun, the view, and your online class! How can it get any better?!?
The price is less than the in-person classes because I have no overhead - no room rental, travel costs, etc.
The total cost of the class is less for you because you have no travel costs. High gas prices, new "security" measures at airports, and tightened budgets because of the current economy mean that getting to a class out of your area is a major issue.
Finding time in your busy schedule to attend a class you want isn't an issue. You take these online classes when YOU want, when it's convenient for you.
The variety of classes I offer covers many of the basic metaphysical arts and practices, such as using a pendulum, reading the Tarot, working with your Chakras, and more. Check out the complete list for more complete information about these convenient classes.
---
Symbol of the Month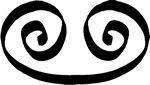 Creation
An excerpt from the upcoming book of channeled wisdom from the Omnidimensional Beings by Kathy Wilson, Omnidimensional Oracles
The energy of this symbol, these lines, as they are and have been received and written, is not just about creating pieces of artwork or what have you. It is about the very creation of life. Your life.
All energy is first created with intent, which is born of desire. Desire is a result of dissatisfaction with the current status. And so the desire to create is born, as thought follows thought, bringing the motivation to move into action.
All creation is of equal importance. The creation of a life between two humans is no less and no greater than the creation of a simple sound made by the spoken word. All contain life and to create life in any form is the greatest endeavor in all the Universe.
As you think, you create. What will you create? What are you creating now? If it is not what you desire, not of the highest quality which you rightly deserve, create a new thought so as to correct the energy of your creation.
Suggestions for Using the Symbol
Take a few moments to connect with the energy of this symbol. Then follow the energy, either with your eyes or by drawing it with pen or color crayon on paper. As you do so, you can more easily understand the higher wisdom that may be received in meditation with this symbol.
Other suggested uses:
Draw the symbol over your heart or appropriate part of your body with a pen, body paints, or henna tattoo.
Using a colored felt pen or paint, draw the symbol on paper and hang it on your wall in an area of your home where you meditate and could use the energy of the symbol
Place the image on your Treasure Map to help you awaken to your highest potential.
I invite you to play with this beautiful symbol and discover what it has to offer you.