Transforming Grief into Love

Glenn Bob and I had been friends for over 30 years. We first met when I went to work at a lumber and building supply in Bellevue, Wa. His name wasn't really Glenn Bob. It was just Glenn. But the manager of our Contractor Sales Department added Bob to his name because he was a gool ol' country boy from Iowa. Or Ohio. I could never remember which.

Anyway, all the guys who worked in that department ended up with Bob tacked onto their names. They proudly touted that they were all part of the "Bob" family. I was the first woman to work there and, of course, I got named Kathy Bob.

Glenn Bob and I kept in touch for years after I'd moved on from that job. We'd call each other and chat about the good ol' days, our lives now, and whatever else came up. When he called he never said "Hi" or "Hello", but always said in his country drawl, "Kathy Bob? That you?"

One day I noticed I'd missed a call and it was Glenn Bob's phone number. I settled in for a nice delightful chat and called him. His wife answered and told me that she had been the one to call me. Glenn Bob had died suddenly a week before and she was going through his phone, calling people in his contacts list and letting them know.

For a few minutes I could hardly breathe. I went into shock and could barely talk to her. Part of me was thinking about how awful she must be feeling while another part of me was just stunned beyond my ability to even talk.

It was a couple of months before I could even think about his death without crying. I didn't understand why I was being so affected by his death in particular. Other friends of mine have passed on and I wasn't affected so.

One day I was talking with a wise friend about my reaction and deep grief to Glenn Bob's death. I mused upon the fact that either we're coming from love or from fear, and since this didn't feel like love, it must be fear of some kind. But fear of what?

She didn't disappoint and instantly gave me the wisdom I was looking for. "Grief," she said, "is the fear of lack of love."

Makes perfect sense. When someone we love dies, we fear that the love we shared with them dies, too. But here's the truth:

Once energy is created it exists for eternity.
Love, like all emotions, is energy.

This means that when you lose someone or something you loved, the energy of that love still exists. And you can tap into it any time you want so you can enjoy it again. It's easy. All you have to do is remember an instance or event with that person or thing that created the feeling of love within you. And you'll feel it again in an instant, whenever you want.

And the best part is that you can never, ever lose a memory that creates the energy of love for you.

So if you feel yourself beginning to sink into the sadness of grief, remember that it's a signal to you that you're afraid you've lost love. Know that you can never lose love because it's eternal. And then recall a moment or an experience that brought you the feeling of love. As you do so, you'll feel that love energy once again.

Love,
Kathy

ps. Every time I hear Glenn Bob's voice in my head saying "Kathy Bob? That you?" I giggle now instead of feeling sad. It reminds me of the good times, the happiness, and the love we shared with our friendship throughout all those years.
---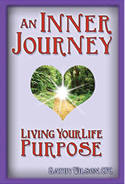 An Inner Journey:
Living Your Life Purpose
You were born into this world with a purpose. You have important work to do - work that only you can do - in order to be of the greatest good and highest service.
This work is your life purpose.
If you're not living your life purpose you know what it feels like. You go through your days feeling bored, stifled, stagnated, anxious, stuck, resentful, or just plain gritchy. Maybe you're experiencing a combination of several of these. You wish your life was different but don't have a clue how to change it... or even what you'd change it into.
One thing is certain: you know your life is not as satisfying as it could be. You know with all your heart that there's something very important missing from it. You feel like there has to be more to life. And you're right.
What's missing is your life purpose - the soul-satisfying work of your destiny. An Inner Journey leads you to that destiny. It opens you to new awarenesses as you uncover the clues that guide you back to your life purpose.
Using the exercises in this book, you'll become absolutely clear about your life values - what they are, how they work, what they do, and how you can use them to guide you in living your life purpose.
In addition, this book covers other important segments of your journey back to living your life purpose, such as:
Using the power of your personal boundaries
Defining success your way
The art of motivation and manifesting
Creating your personal and spiritual support systems
Plugging your energy leaks
And lots more.
Available in paperback and Kindle ebook from Amazon.com
---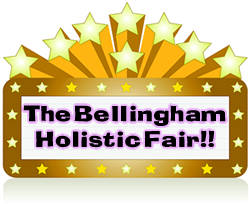 Bellingham Unity and Wise Awakening
Metaphysical and Wellness Fair!
The Bellingham Unity Church is doing it again! Their events are always especially wonderful. Great people, lots of readers, healers, and products... all within the incredibly love-filled and peaceful energy of this church. It's truly an amazing experience to be in this space with these people.
Here's what you'll find:
Psychic readers, astrologers, and Tarot readers
Vibrational healers, energy healers, and chakra balancing
Crystals and gemstones
Beautiful jewelry and clothing
Spiritual art
Holistic healing products
Door prizes
And of course I'll be there!
I'll have my brand new Omnidimensional Oracles book available for sale and I'll personally autograph it for you. And I'll be doing readings with the Omnidimensional Oracles cards as well as specially selected Tarot.
All my CDs - The Interdimensional 12 Strand DNA Activation, Akashic Wisdom Retrieval, DNA Re-encoding, and Manifesting Through the Chakras - will be at Fair Special discounted sale prices.
Special Event!!
Interdimensional 12 Strand DNA GROUP Activation!
1pm (during the fair)
No fee!
Come to this rare special event and experience the activation of your 12 DNA strands. It's been several years since I've done a group DNA activation and I can tell you that this is a most powerful experience for those who participate. I'm gifting this activation to those of you who are ready to step up to the next level of your spiritual and human evolution. If you've already experienced this activation and would like to do it again, please join us.

Saturday January 28, 2017 - 10:00 am to 4:00 PM
Bellingham Unity
1095 Telegraph Road, Bellingham, WA
F-R-E-E Admission
---
Omnidimensional Oracle
42. Intrigue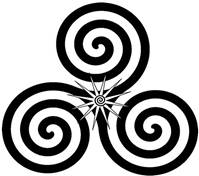 The intrigue of life. It is of this mystery we speak. And a mystery it is, for it is never an explainable thing. Not in its entirety. Parts and pieces are often explainable, but not the whole of life.
It is this intrigue that keeps humanity alive and moving onward and upward. If you knew all there is to know, what would be the purpose for living? Boredom would soon set in and then there would be no intrigue to keep your curiosity piqued. Soon after boredom comes lack of will to live, for what is there to look forward to if you have already experienced it all and have learnt all there is to learn?
It is intrigue that opens new doors, new pathways of thought. Once you have found a thing with which to become intrigued, life sparks and soon flickers into full fledged flames that cause you to have hot desire, wild passion for a new experience. Life force energy is at its greatest when this occurs.
It is this which has spurred the evolution of humanity. Without intrigue to pull humans into new experiences, new ways of thinking, there would be no progress, no evolution. Without the element of intrigue, humanity would still be at the stage of its most base evolved condition.
It is easy to recognize intrigue. Some call it curiosity, but it is more. It is curiosity combined with passion. The initial introduction to a thing which may cause intrigue is a sense of curiosity. As you explore this experience of curiosity one of two things will occur. Either the thing will lose its attraction or it will ignite intrigue. Should the latter occur, passion sets in and suddenly the focus is shifted from all else to that which intrigues.
At the first spark of curiosity intrigue begins. This is the alert, the warning for you to pay attention to something. If you easily dismiss this opportunity, you may be casually throwing away the intrigue of creating something that can greatly improve the condition of humanity.
Celebrate and cherish that first spark of curiosity, for it bodes the potential to grow into intrigue. And when you feel intrigue, you are stepping into the realm of the highest potential for the creative process. It all starts with the pre-intrigue spark of curiosity. .
Omnidimensional Oracles is now available
in paperback and Kindle at Amazon.com