Interdimensional
12 Strand DNA Activation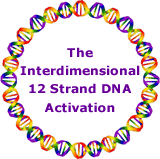 CD
mp3 Download
---
Akashic Wisdom Retrieval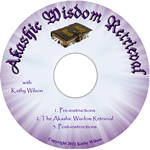 CD
mp3 Download
---
NOW in Kindle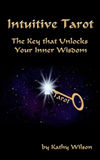 Don't have a Kindle? Don't fret. You can download the Kindle app for your PC or Mac computer, iPad, Android, Blackberry, and more HERE! Hey, you don't pay a cent for it!
Now you can read Kindle books on Nook and other ebook formats, too, with Calibre, an app that synchs all ebook formats... and it doesn't cost a penny!
---

If a friend forwarded The Journal of Spirited Coaching to you,
you can subscribe and get your very own newsletter sent to you personally twice a month.
Just go HERE

---
PRIVACY STATEMENT:
I will not distribute your email address to anyone. Period.
Experiencing a creative drought?
The articles in all of these ezines are available for you to use in your ezine or on your website. Please retain the copyright information and if you are using it on your website or ezine, please provide a link to http://www.warrior-priestess.com. My gratitude knows no bounds for your kindness.
Copyright©2015
Under One Roof
All rights reserved
Omnidimensional Time
Omnidimensional channeling June 11, 2014
In our reality of the omnidimensions it is always time. By that we mean that it is all time. We only have to select which segment of time we wish to be in and it is so.
We are, therefore, always available to you. You need not make an appointment with us or give us warning that you wish to converse with us. At any moment we can step into the correct segment of time and be with you in your time.
Quite a luxury, yes? To be able to select the time you wish to be in. Imagine how beneficial that could be.
Say, for instance, that you have an issue with someone that you feel is unresolved and you wish to change the energy of it and the energy around it. So you could, for an example, select an appropriate time regarding that issue and shift the energy of it. By infusing it with a different energy you can thus shift the resulting energy for all concerned.
This may sound rather vague to you, so let us give you a further example. Imagine that you and another disagree about something. There are many levels of disagreement. One can simply have a different opinion or one can be vehement about their belief regarding the issue. One's stance can be mild or it can be hostile and angry. Both of these positions and many in between them are simply different variations of energy.
So if you choose to shift the energy about a situation that has occurred to you in the past, you can obtain peace between you and the other in the now.
Likewise, the other person can choose to shift the energy around and within any incident between you two. You may, at some time in your future, be nudged to recall the incident and might experience surprise in discovering that the emotional energy of your memory is now changed.
Humans often attribute this to time passing. "Time heals all wounds" is a favorite saying of many. The truth is that time does not heal any wounds. Instead what occurs is one or both humans gain worldly experience and in so doing, they become illuminated, educated, informed, and now view the past experience differently. The emotion they send to the memory becomes changed into one that is more understanding, benevolent. This is how you are shifting the energy around your past in your 3D reality.
As you continue to progress in your evolution toward what you call Spirit, you'll become open to sensing new forms of energy. Many of these new energy forms are composed of the element of time. As you can see, you'll begin to know the elements you're currently familiar with in an entirely different and greatly expanded reality.
You use time now to measure "how long" and "when". There is much more to time than that. Time has many forms, some of which are visible to those who are in the correct energy alignment with it.
The next step in your evolution regarding time will be the sensory experience of time. You will actually be able to feel the energy of time.
When you achieve this level of evolution, you'll begin to learn how to reform time as is appropriate. At that point your evolution in regards to time will grow exponentially and you'll speed on your way to knowing the true nature of omnidimensional time. You'll learn how you can use it for the greater good.
Love,
Kathy
ps. Currently I'm collaborating with Andrew Swetnam, the artist and Receiver of the Omnidimensional Oracles, in the first of three books. I am called the Transcribe by the Omnidimensionals. Because this is taking much of my time and focus, I'm reducing the number of newsletters I send out to once a month. Stay tuned for news about the release of the book to be entitled Omnidimensional Oracles: Portals to Universal Knowledge
---

Why take an online class rather than an in-person class?
You have the freedom of being able to take the classes when and where you want! Can't you just see yourself cozied up with your laptop or iPad on the sofa, the music of your choice playing in the background, your favorite tea or coffee close at hand... and you're totally comfy in your sweats or jammies! Or maybe you're at the beach enjoying the sun, the view, and your online class! How can it get any better?!?
The price is less than the in-person classes because I have no overhead - no room rental, travel costs, etc.
The total cost of the class is less for you because you have no travel costs. Hhigh gas prices, new "security" measures at airports, and tightened budgets because of the current economy mean that getting to a class out of your area is a major issue.
Finding time in your busy schedule to attend a class you want isn't an issue. You take these online classes when YOU want, when it's convenient for you.
The variety of classes I offer covers many of the basic metaphysical arts and practices, such as using a pendulum, reading the Tarot, working with your Chakras, and more. Check out the complete list for more complete information about these convenient classes.
---
Symbol of the Month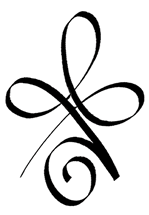 Accept Health
From the book Zibu, The Power of Angelic Symbology by Debbie Z.
Follow the energy of this symbol, either with your eyes or by drawing it with pen or color crayon on paper.
Although there are no directions on where to start, I like to take a few moments to connect with the energy. As I do so, I sense a starting point for the energy and follow it as it flows around. I sense that each downward stroke is connecting me to the physical 3D world and the upward strokes are a visit to the spiritual realms. The circling movements I sense as the swirling of energies of both spiritual and physical blend so I can understand the higher wisdom received in meditation with this symbol.
Suggested uses:
Draw the symbol over your heart or appropriate part of your body with a pen, body paints, or henna tattoo.
Using a colored felt pen or paint, draw the symbol on paper and hang it on your wall in an area of your home where you meditate and could use the energy of the symbol
Place the image on your Treasure Map to help you awaken to your highest potential.
I invite you to play with this beautiful symbol and discover what it has to offer you.