Tolerance is decking the halls when you want to deck your relatives.
Brian Kleber

Interdimensional
12 Strand DNA Activation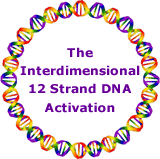 CD
mp3 Download
---
Akashic Wisdom Retrieval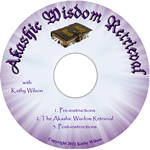 CD
mp3 Download
---
NOW in Kindle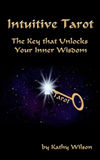 Don't have a Kindle? Don't fret. You can download the Kindle app for your PC or Mac computer, iPad, Android, Blackberry, and more HERE! Hey, you don't pay a cent for it!
Now you can read Kindle books on Nook and other ebook formats, too, with Calibre, an app that synchs all ebook formats... and it doesn't cost a penny!
---

If a friend forwarded The Journal of Spirited Coaching to you,
you can subscribe and get your very own newsletter sent to you personally twice a month.
Just go HERE

---
PRIVACY STATEMENT:
I will not distribute your email address to anyone. Period.
Experiencing a creative drought?
The articles in all of these ezines are available for you to use in your ezine or on your website. Please retain the copyright information and if you are using it on your website or ezine, please provide a link to http://www.warrior-priestess.com. My gratitude knows no bounds for your kindness.
Copyright©2015
Under One Roof
All rights reserved
Your House, Your Body
By now most people know that your thoughts and emotions can create good or ill health. Your body responds to the vibration of your thoughts and emtotions. As it does so, it reflects back to you in its own language what you're sending out or radiating in the energetic form of thoughts. For example, fear of financial security usually manifests in the body as lower back ailments.
Your body isn't the only thing that responds to the energy of your thoughts. Your home also reflects the energy that you're emitting.
You've no doubt had the experience of entering someone's home and immediately you felt either very comfortable or very ill at ease. What you sensed is the energy of the inhabitants which has been absorbed by the house.
This energy remains long after the inhabitants have moved from the house. The last three houses that my husband and I have purchased all had negative energy. Two of them had been occupied by drug users.
The good news is that the energy of any building can be changed with a little work. There are certain things I've found that are very effective in shifting the energy of a house from dark, negative to light, bright, and happy. Here are some of them:
Cleaning. This sounds like a no-brainer, but you would be amazed at how much difference deep cleaning can make in the energy of a house. After we'd purchased a house a few years ago, a friend came to help before we moved in by cleaning the filthy kitchen. At one point she remarked that she wouldn't tell me what she was finding in certain drawers because I'd never want to use them. When she got done we stood back to admire her work and we both saw a HUGE Cheshire cat-type grin hanging mid-air in the kitchen. It became one happy house!
Painting. Another version of cleaning as far as energy clearing, this does much to raise the energy of a home. A fresh coat of paint on the interior freshens up the energy and lasts longer than cleaning. Sometimes just changing the color makes a whole lot of difference. I use a low-gloss enamel which reflects the light just a bit, bringing more light into the rooms. One house we bought was painted outside in an ugly institutional green. After I painted it a warm beige with white trim all the neighbors said it looked larger. One said that before I painted it, the house was ashamed of how it looked and was shrinking to hide itself, but now it was beautiful and it was jutting its chest out in pride!
Feng Shui. This ancient Oriental directs the energy flow within a home so that it's most beneficial. The most simple method is to just clear the clutter to allow energy to flow smoothly throughout the home. A simple method I like to use is to pretend like you're a gentle breeze and enter your home through the front door. Notice how you want to move, if you're split in certain places, and if there are dead ends where you just stop. An excellent book on this is Sacred Space by Denise Linn.
Beauty. Bring into your home the things that you find beautiful and that bring you joy. Not only will they raise the energy of you, they'll raise the energy of your home as well.
Music and other sounds. Just as certain types of music affect you differently, they also affect your house. The same is true of anything that emits sound - TV, computers, animals, machinery. Pay attention to how your house sounds and how the sounds affect you. They're affecting your house, too, and in the same way.
Crystals and healing stones. Not only will you find crystals in every room in my house, I have a specific room in which I have the majority of my collection. The energy in my Crystal Room is of such high quality that people who visit are naturally drawn to that room and, once there, are loathe to leave it. There are stones and minerals that have specific qualities. For example, Hematite and Jet are excellent for absorbing lower based energies. Malachite radiates powerful healing energy. Rose Quartz emits the vibration of love.
You and the place you live are connected energetically. Raise the vibration of your home and simultaneously raise your vibration.
Love,
Kathy
ps. Whenever we move into a new home, which is often, one of the first things I do is the Geopathic Stress Cure, to ensure that lines of negative energy aren't streaming through the house. In two houses we experienced disrupted sleep until I performed the GS cure. When I did it, I found in each case a line of energy running through our bed.
---

I am delighted, excited, and honored to be offering a Reiki Level 1 and 2 workshop again!
My friend, Lynne Donnelly, has been encouraging me to use her studio on beautiful Whidbey Island to teach Reiki and finally our busy schedules have opened so we can make this happen!
During this class you'll learn:
how to create a sacred space with clear energy for your Reiki sessions

use of the Reiki symbols for physical, emotional, and mental healing

how to begin and complete a Reiki session

five methods to perform a long distance healing

how to send Reiki over distance and through time
use of essential oils, crystals, and more to enhance the Reiki energy
using Reiki with other healing modalities
You'll experience giving and getting healing Reiki energy during Reiki sharing sessions with other students. After each session there will be discussion about what you and the others experienced for the purpose of deepening your learning about performing a Reiki session on others.
Saturday, May 16, 2015 from 11am to 5pm
5548 Myrtle Avenue, Suite #303, Freeland, WA 98249
$75
You'll receive a notebook with complete information about using Reiki and a Certificate of Completion.
Class size is limited to ten students for the purpose of ensuring that each one has an optimum learning experience. Only two spaces are still available, so to reserve yours, you can register instantly online.
---
Symbol of the Month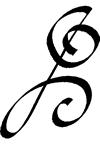 Heartsong
From the book Zibu, The Power of Angelic Symbology by Debbie Z.
Follow the energy of this symbol, either with your eyes or by drawing it with pen or color crayon on paper. Although there are no directions on where to start, I like to take a few moments to connect with the energy. As I do so, I sense a starting point for the energy and follow it as it flows around. I sense that each downward stroke is connecting me to the physical 3D world and the upward strokes are a visit to the spiritual realms. The circling movements I sense as the swirling of energies of both spiritual and physical blend so I can understand the higher wisdom received in meditation with this symbol.
Suggested uses:
Draw the symbol over your heart with a pen, body paints, or henna tattoo.
Using a colored felt pen or paint, draw the symbol on paper and hang it on your wall in an area of your home where you meditate and could use the energy of the symbol
Place the image on your Treasure Map to help you awaken to your highest potential.
I invite you to play with this beautiful symbol and discover what it has to offer you.