Interdimensional
12 Strand DNA Activation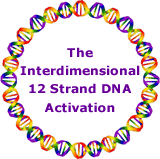 CD
mp3 Download
---
Akashic Wisdom Retrieval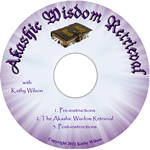 CD
mp3 Download
---
Kindle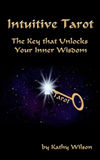 Don't have a Kindle? Don't fret. You can download the Kindle app for your PC or Mac computer, iPad, Android, Blackberry, and more HERE! Hey, you don't pay a cent for it!
Now you can read Kindle books on Nook and other ebook formats, too, with Calibre, an app that synchs all ebook formats... and it doesn't cost a penny!
---

If a friend forwarded The Journal of Spirited Coaching to you,
you can subscribe and get your very own newsletter sent to you personally twice a month.
Just go HERE

---
PRIVACY STATEMENT:
I will not distribute your email address to anyone. Period.
Experiencing a creative drought?
The articles in all of these ezines are available for you to use in your ezine or on your website. Please retain the copyright information and if you are using it on your website or ezine, please provide a link to http://www.warrior-priestess.com. My gratitude knows no bounds for your kindness.
Copyright©2015
Under One Roof
All rights reserved
Future Language
Omnidimensional channeling May 29, 2015
In the times of old on your planet there were no such things as written languages. Spoken language was just beginning to develop during the time or phase of evolution of which we speak. Obviously, the spoken language was very rudimentary at this stage.
It was the need-driven desire of humans to begin to communicate at a more clear level of understanding that changed your verbal communication. As the population grew, issues arose that could not be communicated with grunts, clicks, and other such noises. Nor were hand signals definitive sufficiently to communicate to another more subtle messages than, say, "Outta my way" or "Let's eat."
And so the first spoken language began. It consisted of what you now call vowels plus a few grunts, whistles, and clicks thrown in for more clarification. The vowels were more along the lines of drawn out sounds, such as "aaaaaooooooeeee", followed by what would be identified more as a noise than a sound. Most of these non-vowel sounds were emulations of sounds the then-humans heard from their surrounds, such as animals, wind, water, etc.
Today all human languages consist of two elements: vowels and consonants. As we've shared with you before (in previous channelings) the vowels are the sounds that hold energy and the consonants are the sounds that stop the energy.
"Why would anyone want to stop energy", you might ask.
The answer is simple. In communication, the energy must change or the communication itself is insufficient in clarity of meaning. It is the equivalent of voicing the vowel "a" and expecting the listener to understand that it means "Go to the store and get a loaf of bread and a quart of milk." In that entire communication the energy is stopped multiple times in order that it might start up again in a different frequency, thus creating a different sound with a different meaning for the sound.
While this is a rather cumbersome method for communication, it is far advanced from the first coarse attempts of humans. Know that there is ahead of you that much and more, comparatively, in the advancement of your communication methods.
As you continue to raise your frequency, you'll discover that you are able to sense other energies around you. Some of these energies are those that are transmitted to you from others - human and all other life forms as well.
In the beginning stages of this new form of communication you'll only have basic awareness of it. The meanings will not be clear to you at first. Gradually, you'll begin to connect certain occurrences with specific energies that you're sensing and the meanings of the energies will become clear.
It is when you reach this point in your advancement that only the truth can be communicated. Nothing can be hidden when communication is via pure energy.
In the future you will be using words less and sensing energy more as a means of communication. At some point in your far distant future you won't use words at all for communication, but will use only energy.
Using energy as a communication medium makes for pure transparency which means nothing can be hidden. Energy just is, and so it cannot lie nor can it be used for lying. It exists as pure truth.
There will be no possibility of hiding any truths when you communicate via pure energy. And when only the truth is available, there can be no fear, for fear is born from distrust, which is a result of dishonesty.
Where there is only truth there can be no fear.
Where there is no fear there can be only love.
Love,
Kathy
---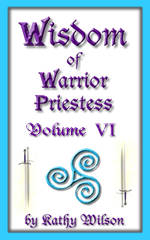 Coming Soon!!
The latest collection of wisdom from
Warrior Priestess!
I've selected only the best articles from all the editions of my newsletter, The Journal of Spirited Coaching, from the last two years. They're all conveniently gathered into the latest volume of my Wisdom of Warrior Priestess ebooks.
Stay tuned for more information about the articles and purchase information.
---

Why take an online class rather than an in-person class?
You have the freedom of being able to take the classes when and where you want! Can't you just see yourself cozied up with your laptop or iPad on the sofa, the music of your choice playing in the background, your favorite tea or coffee close at hand... and you're totally comfy in your sweats or jammies! Or maybe you're at the beach enjoying the sun, the view, and your online class! How can it get any better?!?
The price is less than the in-person classes because I have no overhead - no room rental, travel costs, etc.
The total cost of the class is less for you because you have no travel costs. Hhigh gas prices, new "security" measures at airports, and tightened budgets because of the current economy mean that getting to a class out of your area is a major issue.
Finding time in your busy schedule to attend a class you want isn't an issue. You take these online classes when YOU want, when it's convenient for you.
The variety of classes I offer covers many of the basic metaphysical arts and practices, such as using a pendulum, reading the Tarot, working with your Chakras, and more. Check out the complete list for more complete information about these convenient classes.
---
Symbol of the Month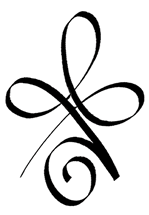 Accept Health
From the book Zibu, The Power of Angelic Symbology by Debbie Z.
Follow the energy of this symbol, either with your eyes or by drawing it with pen or color crayon on paper.
Although there are no directions on where to start, I like to take a few moments to connect with the energy. As I do so, I sense a starting point for the energy and follow it as it flows around. I sense that each downward stroke is connecting me to the physical 3D world and the upward strokes are a visit to the spiritual realms. The circling movements I sense as the swirling of energies of both spiritual and physical blend so I can understand the higher wisdom received in meditation with this symbol.
Suggested uses:
Draw the symbol over your heart or appropriate part of your body with a pen, body paints, or henna tattoo.
Using a colored felt pen or paint, draw the symbol on paper and hang it on your wall in an area of your home where you meditate and could use the energy of the symbol
Place the image on your Treasure Map to help you awaken to your highest potential.
I invite you to play with this beautiful symbol and discover what it has to offer you.