Wisdom of Warrior Priestess: Volume Vl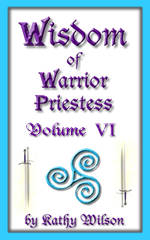 In the continuing series of Warrior Priestess Wisdom ebooks, the articles in this volume are especially powerful. The wisdom contained within them can have huge impact on your life... for the better, of course.
As always, I specially selected the articles from my enewsletter, The Journal of Spirited Coaching. and I believe they are some of the best yet. Subjects are diverse and include wisdom about working with energy, manifesting, healthy living, and more.
The work of a priestess is to receive wisdom from Higher Sources interpret the information. She must then translate the messages into language that can be understood by the masses.
Through the years it has been my responsibility, my honor, and my privilege as Warrior Priestess Magdalene to interpret and share these messages that I've received from my Sources of Higher Wisdom.
The experiences you have serve one purpose: to offer you knowledge with which you can improve your life and raise your vibration. The messages in this ebook, and those that follow, will assist you in gleaning the knowledge and wisdom you desire.
Here's a few samples of the wisdom you'll find inside Volume VI of the Warrior Priestess Wisdom ebook series:
Your Body: The Living Oracle
The Power of Sound
Editing Your Life
Pre-Manifesting
De-Manifesting
The Other Side of Love
Releasing Lower Vibrational Energies
Nowhere People
Stopping and Starting Your Brain
Your Personal Energy Stamp
The Lesson of Balance
and lots more
Enjoy the Wisdom of Warrior Priestess now!
Don't have a Kindle reader? You can download the Kindle app for your PC, Mac, iPad, Android, Blackberry, and more HERE! It's FREE!!