How to Read the Tarot: Advanced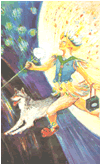 The definition of "arcana" is secret or hidden knowledge. The Minor and Major Arcana of the Tarot are powerful tools that open the treasure chest of hidden knowledge and Higher Wisdom.
The Major Arcana cards represent the Soul's journey during an Earthwalk. This journey is divided into three levels in the Major Arcana, giving the Tarot reader incredible depth of information for each card when considered in relation to the position of the card within the spread and other cards surrounding it.
The combination of the Minor Arcana with the Major Arcana in a layout offers the Tarot reader deeper, more complete information about the situation for which the querant is seeking answers, knowledge, and higher wisdom.
During this class you'll learn:
the three levels of the journey
the meaning of each of the cards within the levels
the importance of the card with no value - The Fool
how to know if the lifetime represented is the current one or another
Combine the foundational knowledge of the Minor and Major Arcana with your intuition for incredibly powerful readings.
You and the other participants will be doing practice readings with each other to integrate what you learn. Bring your own deck or use one of the demo decks available.
Date to Be Determined
1pm to 5:30pm
$79 (includes How to Read the Tarot: Basics )
The Crystal Room
Port Ludlow, WA 98332
For more information call 360.437.9328
or email me at Kathy@warrior-priestess.com