"I don't say we all ought to misbehave, but we ought to look as if we could."
Orson Welles
Interdimensional
12 Strand DNA Activation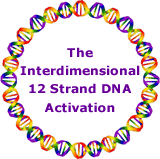 CD
mp3 Download
---
The Next Step in Your Spiritual
Evolution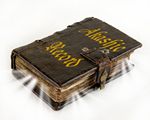 Akashic Wisdom Retrieval
---
NEW
KINDLE BOOK!!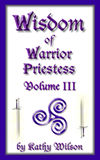 Wisdom of Warrior Priestess: Volume III
On SALE! Only $.99
Also available on Kindle:
---

If a friend forwarded The Journal of Spirited Coaching to you,
you can subscribe and get your very own newsletter sent to you personally twice a month.
Just go HERE
---
PRIVACY STATEMENT:
I will not distribute your email address to anyone. Period.
Experiencing a creative drought?
The articles in all of these ezines are available for you to use in your ezine or on your website. Please retain the copyright information and if you are using it on your website or ezine, please provide a link to http://www.warrior-priestess.com. My gratitude knows no bounds for your kindness.
Copyright©2013
Under One Roof
All rights reserved
Emotional Attaching
Many years ago I was crying on the shoulder of one of my dear, wise friends about... what else... a man I'd been dating who'd done me wrong. She let me go on for a while as I told her in graphic detail about this latest in his history of being a rat. And I reminded her of several instances in the past when he'd exhibited his ability to be a complete you-know-what. After I'd described, with great emotion, six or ten of these incidents, she held up her hand to stop me.
"You're attaching other events to this one most recent incident. By doing so you're making the one incident much greater that it actually was," she said, startling me with her abrupt honesty.
"What do you mean?" I asked, a bit taken aback.
"When you remember all the times he acted in a less than loving manner toward you, the effect of the emotions your feel becomes cumulative. At each recital of yet another nasty thing he did, you're attaching the emotion of that incident to the first one. And so on and so forth. The result is that you end up experiencing a much greater emotional impact than the one incident truly calls for."
As I sat there, stunned into silence by this new concept, she continued. "Separate the most recent incident from the others. Think about it solely. As you do so, feel the emotion you've attached to it."
She waited for a few minutes while I did as she asked. Then she said, "Now, think about a few additional incidents you've had with him. Notice how your emotions become more intense regarding the current incident."
I tried it and she was right. I could feel my blood pressure going up as I remembered several more not-so-pleasent incidents I'd experience with him. By the time I'd circled back to the present issue I was in a full rage.
"Each event you experience has an emotion attached to it. The most productive way to resolve issues with another person is to deal solely with the one incident. When you attach other events from the past to a current incident, you also attach the emotions. The result is that the emotions you feel regarding the current event become hugely out of proportion.
"You'll find it much more difficult to come to any kind of resolution with that person when you've attached the emotions from several past events to a single current event. If you truly want to work things out, focus only on the current incident."
Difficult as this might be, it works. In the years since my wise friend taught me this lesson I've had a multitude of opportunities to test this theory. In each of my experiences, focusing solely on the one incident facing me and NOT attaching other emotional experiences to it has been of great benefit in helping to resolve issues that crop up in relationships.
Try it out for yourself. I think you'll find that finding a resolution to a difficulty you're having with another will be a whole lot easier.
Love,
Kathy
---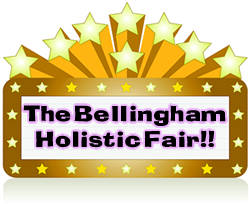 Here's what I'll have for you at my table:
AstroArchetype Readings! Combining the wisdom of ancient archetypes with the power of astrology for the most profound wisdom about any issue, situation, relationship, or challenge you may have. 15 minute reading for only $15.
Manifesting Through the Chakras CD - on sale at the fair for only $14.95 (save $10 because you don't pay for shipping)
Interdimensional 12 Strand DNA Activation CD - on sale at the fair for only $24.95 (save $10 because you don't pay for shipping)
Akashic Wisdom Retrieval CD - on sale at the fair for only $24.95 (save $10 because you don't pay for shipping)
My gift to you: a copy of my book, An Inner Journey: Living Your Life Purpose. This may be the last time I'll be giving these books away. I only have one box left. Get yours (and one for a friend) while they last.
Saturday, May 18, 2013
New Location!! Bloedel Donovan Park
2214 Electric Ave.
Bellingham, WA 98226
See ya there!
---


Book o' the Month
Books have always been an important part of my life. Because I love books so much, I want to share with you those that especially excite me. Here is this month's selection...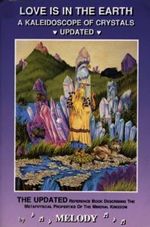 Love is in the Earth: A kaleidoscope of Crystals
by Melody
This is the absolute best authority of crystals and other healing minerals. Some call it their "crystal bible".
It's the first book I reach for in my personal library when I want to know more about a new crystal or healing stone I've acquired... or one that I've had for a long time but forgot how to use.
In this "must have" book you'll find valuable information about hundreds of crystals and stones - their associated astrological signs, their shapes, and colors. More importantly are the uses for each stone in healing, energy work, and spirituality.
At the front of the book are:
descriptions of the different configurations
numerical vibrations and their interpretations
master numbers
preparations of crystals and stones after you've acquired them
practical applications for healing, manifesting, and more
If you love crystals and other stones, and would like to learn more about them and their uses for healing and creating, this is the book for you.
Love is in the Earth
is available in paperback on
Amazon.com
ps. My favorite is the Leaverite on page 376